When I was young, my family would spend summer weekends at my grandparents' cottage. They lived off of a dirt road that ran alongside a small canal in Ontario, Canada, about an hour's drive away from the town where I grew up.
Before my parents woke up each Saturday morning, my siblings and I would tiptoe over the creaky cottage floor to our grandparents' room where our grandma would be waiting for us to start breakfast. She would, without fail, offer us the warmest hugs and kisses and the same two meal options to choose from: toast or oatmeal.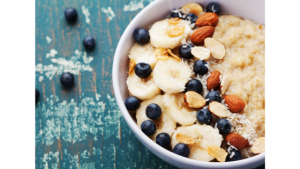 As a mother, I sometimes feel like what I have to offer my children isn't enough, and worry that they may be missing out on all that I don't have the means to provide for them, and then I remember how much those simple mornings meant to me.
When feelings of inadequacy are thick in your mind, it can help to remind yourself that what you have to offer doesn't matter half as much as how you choose to share it. If what you have to give to yourself, your friends, your family, or your loved ones, isn't Pinterest-perfect, expensive, or whatever you wish it could be, allow yourself to enjoy it anyway and to view it as the gift that is really is. You are giving your presence, energy, love, and effort, and that is what fills hearts and minds and lives with meaning.
I look back on those brown sugar-laced memories quite often. I can still feel the soft chew of thick-cut bread, warm and crisp, with a spoon-slather of sweet homemade jam swept over melted butter, and it pulls me back to the peaceful feeling of being loved and cared for. I remember how my grandma welcomed us into her arms and into the day and when I need a bit of that magic, I just make myself a bowl of oatmeal the way that she would make hers, and it softens out my edges. It doesn't take a lot of money to fill life with love.
– Stephanie
"It is the sweet, simple things of life that are the real ones, after all." – Laura Ingalls Wilder