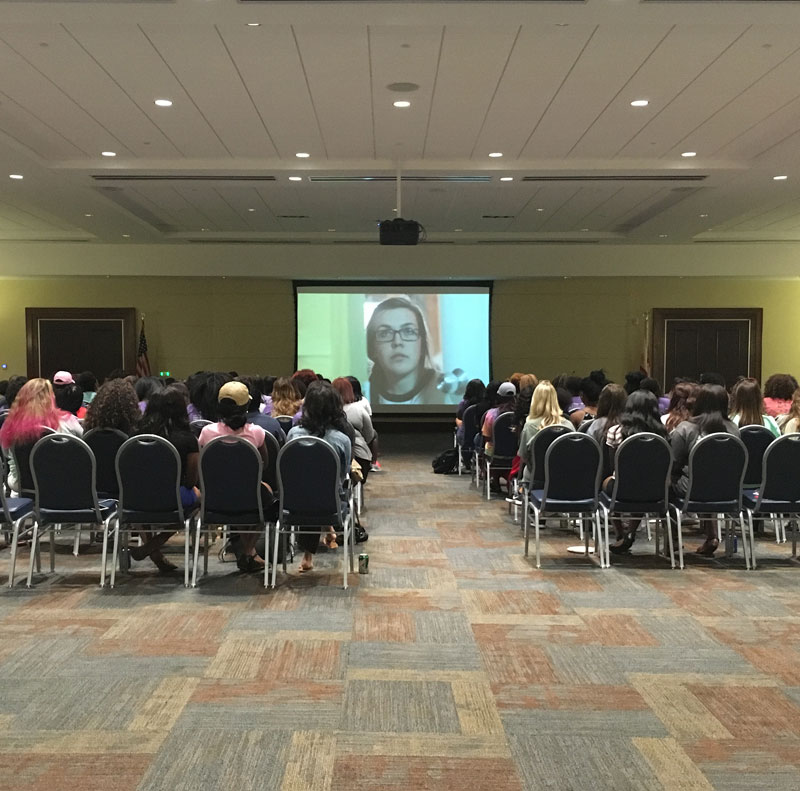 Lifelines Counseling Services Prevention Educators work to cover a variety of topics.
Topics can include:
Bullying Prevention
Healthy Relationships
Bystander Intervention
Sexual Assault Prevention
Financial Topics
Suicide Prevention Programs
Mental Health First Aid
Since 1998 Outreach and Education has provided programs approved by the State of Alabama Department of Public Health, Mobile County Public School System and the State of Alabama Department of Education. Lifelines' Prevention Educators use approved curriculums that are age and grade level appropriate and include Bullying/Anger Management, Safety, Conflict Resolution and Healthy Relationships. Classroom presentations and small groups are offered.
Curriculums: Safe Dates, Wise Owl Bully Stopper Kit, Bully Proof Kit, QPR (suicide prevention) and Mental Health First Aid.
The Sexual Violence Prevention Education (SVPE) team tackles rape myths and more with presentations which focus on awareness and prevention. Rape is a very difficult topic to address due to the multitude of myths and misinformation on the topic. Some people believe that women ask to be raped because of the way they dress or behave. Others believe that rape is only committed by strangers. Most individuals do not even know what constitutes 1st or 2nd Degree Rape in the state of Alabama.
At Rape Crisis, we believe in saturation over sprinkling- we're happy to visit your organization multiple times in order to increase the capacity for understanding the causes of and preventing sexual violence. Currently, the SVPE team offers free, prevention based, age and content appropriate, multi session presentations for school age youth.
3-5 sessions for Kindergarten through 2nd grade using the Wise Owl Bully Stopper curriculum
4-6 sessions for 3rd through 6th grade using the Bully Proof curriculum
4-9 sessions on healthy relationships and dating violence for 7th through 12th grade using the Safe Dates curriculum.
All curricula are research based and approved by the Alabama Department of Public Health.
The SVPE team uses curricula that focus on abusive and controlling behaviors like bullying and dating violence because those behaviors tend to be precursors for sexual violence. A child who bullies or a teen who abuses his or her partner is asserting power over their victim. Rape is about power and control. Kids bully because they feel insecure, jealous, or maybe they just don't care about other people's feelings- the same reason teens abuse and some of the same reasons people rape. The bullying curriculum initially focuses on the fact that almost every child has exhibited bullying behaviors, even those who have been bullied. Adults dismiss bullying as a part of growing up, but in actuality, it's an abusive behavior that if not addressed, can lead to serious consequences for everyone involved. By showing children that they have the power to stop abusive behaviors now, either by changing their attitude or empowering them to stand up to or report bullying, we can perhaps prevent violence, including sexual violence, down the road.
Awareness
Because Rape Crisis works closely with law enforcement and medical personnel, we offer awareness based programs that address issues such as working with survivors, how to respond to rape, myths vs. facts, date rape drugs, rape statutes, the SANE program and rape crisis center services. For all other audiences (teachers, other professionals and church or community groups), topics include those previously mentioned, plus rape prevention, risk reduction, alcohol and rape, consent vs. coercion, statistics, rape trauma syndrome, sexual harassment, what to do if you are raped, and how to identify and signs of an unhealthy relationship. Please contact our Prevention Education Program Coordinator at 251-431-5100. If you need immediate information right now, such as statistics, common rape myths, how to help a friend, drug-facilitated sexual violence, or other information, please go to www.rainn.org.

Suicide Prevention Programs
Question, Persuade, Refer (QPR) training is a 60 to 90 minute training for the general public which teaches participants the general warning signs for suicide. The QPR training includes myths and facts about suicide, learning how to ask potential suicidal intent, how to persuade someone to get help and how to make a referral to professional resources.
Mental Health First Aid
Mental health challenges – such as depression, anxiety, psychosis and substance use – are shockingly common in the United States. In fact, more than one in five American adults will have a mental health problem in any given year. The National Council for Behavioral Health certifies individuals throughout the nation, including the Gulf Coast Behavioral Health & Resiliency Center, to provide Mental Health First Aid courses to prepare their communities with the knowledge and skills to help individuals who are developing a mental health problem or experiencing a mental health crisis. Identified on the Substance Abuse Mental Health Services Administration's (SAMHSA) National Registry of Evidence-Based Programs and Practices, the training helps the public better identify, understand, and respond to signs of mental illnesses.
For more information on Mental Health First Aid, visit www.mentalhealthfirstaid.org