Contact Amelia Boles, Help Me Grow Care Coordinator, 251-431-5100 ext 234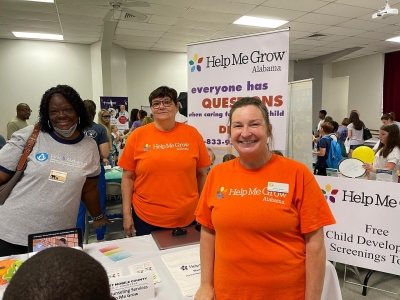 Help Me Grow Alabama is a free information and referral line to help connect families of children birth to age eight to health and developmental resources in their community. Contact Amelia Boles, Help Me Grow Care Coordinator, 251-431-5100 ext 234 or helpmegrow@lifelinesmobile.org.
Help Me Grow also connects families to health and developmental resources so children (birth to age eight) can start school healthy and ready to succeed. With this proven model, HMG helps to ensure all children to have the best possible start in life.
Use our free resource tool, the Well Visit Planner to help you prepare for your child's next visit. It asks a few questions based on your child's age and lets you know items you could talk with your doctor about at the child's next check-up.
How does Help Me Grow work?
The four program components are:
Making the Connection. Contact Amelia Boles to receive confidential calls from family members regarding a child's developmental or behavioral concerns, assess the child's needs and available resources, and refer families to developmental services.
Building the Network. Develop ongoing relationships with programs in the community and support the maintenance of an updated resource inventory.
Educating Providers. Educate professionals about the importance of developmental surveillance and screening while promoting access to developmental services.
Identifying Gaps and Barriers. Collect data and analyze to document and identify needs to more effectively connect families to community resources.
Who can use Help Me Grow?
Anyone can call if they are:
Wondering about a child's development, behavior or learning
Needing support to access services
Assisting a client, family member, or friend seek information about developmental services
Requesting inclusion of an organization in the developmental services database for referrals
Help Me Grow will:
Listen to concerns and help decide which referrals are best for families
Find services that are appropriate and available for referrals
Connect children to services
Follow up to find out if a successful connection was made
For more information and the enrollment form visit the website at www.helpmegrowalabama.org.
For tips, activities, and more visit our Facebook page at https://www.facebook.com/helpmegrowalabama/.